If fido has brought fleas to your living room carpet,dont panic,just spareingly sprinkle table salt over the carpet,wait an hour then vac your troubles away.Salt kills the little varments.Dont forget fido.He needs a bath immediately in shampoo that your vet can reconmend.Also his bedding has to be washed right a way or they will spread to other rooms.
(wouldnt it be nice for all of us housewives to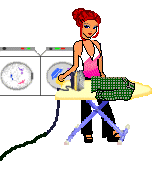 look like this!)
Viniger-Did you know you can add alittle vin. to your clothes in the washer and it helps breakdown the grime and odors.You can pour vin.into warm water and clean your no wax floors (lanolium) with it.It removes all grime and doesnt take the luster off the floor.

I have made a great game up to keep our daughter occupied while I hang up clothes on our clothesline.I save a section for blankets and sheets and let our little one play like they are tents.I allow two sheets to almost touch the ground so she can craw under with her dolls and play house.She also loves to sing ,in and out the window,while running between the blankets.
Corn starch can be used instead of babypowder in an emergency .It will keep the baby dry and clear of diaper rash.For diaper rash medicine,look for creams at your local store that contain zink.For insect bites on kids,make a paste of baking soda and water.It takes the infection out and helps sooth the pain.
Do you older ladies like me, remember using an outhouse? Well this last week my husband and I took our child to the local state park.They still use outhouses there .After waiting at the door for several minutes I asked my child what was taking her so long afterall mommy couldnt do the jig very much longer.She shouted back a reply that she still couldnt find the handle and wanted to know how to flush the toilet without it.I thank God everyday for the little extras he gives us in our lives.By the way,our daughter has been bragging to our family and friends eversince that she used an outhouse like the pioneers.She was really impressed.