Hey Kids! Dont for get to check out our Bible For Kids Page!It is full of neat fun places to go and stuff to do.You learn about God and the wonderful things he has done for us.Have mom or dad to take you there.It has coloring pages and fun ,great stories with pictures.It has games and you dont want to miss out on all the fun.
Hey Kids-have mom help you to make bananna pudding.You need- 3banannas sliced in a small bowl.1box of vanilla crackers.2boxes vanilla pudding and milk.Line a big bowl with the van.crackers.Have mom show you how to mix up a batch of vanilla pudding.Place the banannas in the pudding and mix well.Pour the mixture over the bowl of crackers then place one layer of vanilla crackers on top.Put in icebox for an hour.It tastes great.try it out.
As a Nick Jr.Advisory Board Member,I encourage parents of pre-school age to check out our website and see the learning opportunity that is offered to each child for free.
Kid Sites.com Great Sites for Kids! (approved sites)
PBS Kids puts you into a whole learning experience with your child. www.pbskids.com
Kidgrid has several kidsafe internet links to choose from. www.kidgrid.com
National Park Service has great info for kids to learn www.nps.gov
Learn about Illinois in the Civil War at www.illinoiscivilwar.org
Check out the Illinois State Museum at www.museum.state.il.us to learn about the prarie animals and other exibits there.
700 Great Sites for kids and parents
Flash Cards-I make my own.Its cheeper than buying them.You save alot of money over the years.All it takes is for you to purchas plain index cards at a discount store and use a marker and your imagination.The ABC's can be printed out in lower and upper case ,each one on seperate cards for your kindergardeners.Numbers can be printed out also.You can print out simple words such as sit in the same manner.
Your Public Library-Check out your public library.Alot of them have a childs program where you can not only borrow books but borrow other teaching supplies such as videos,records,tapes.The also have storytime and alot of interesting stuff for kids to do and its all free.
Teel Family-www.teelfamily.com/education/ is a family located in Alaska.They homeschool and offer a great website to learn alot about the weather,animals,and life in the north.Its a great family website!

http://www.teelfamily.com/education/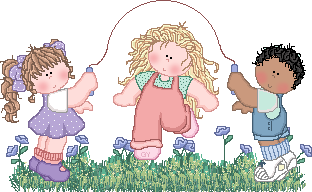 Read a book a day!-We started a reading program in our home,we read a book together every day and when we reach our goal of 25 books then we take our daughter to the local discount store (dollar tree) and allow her to pick one item out for her earned work.I also have set up a bullitin board display of a tree and everytime we finish a book then we add an apple that i cut out of construction paper,to the tree.
Book Adventure-Reading program for kids grade K-8.
National Geographic is a great place to teach kids about the world. www.nationalgeographic.com
Believe It Or Not Hey kids did you know there is such a spider called a camel spider.Really there is.If you dont believe me then look it up for yourself in a dictionary.
Cable in the Classroom-is a great place to get lessons from history to even what makes your weather outside.(www.ciconline.org)
HUMPHERLINKS-safe kid links on the web
visit the weather dude here,for lessons,games,and so on pertaining to your weather outside.
CLICK HERE!!! This is a have to stop for all kids and parents,its a wonderful website from a family in the UK- its called The Crews Nest-Its Great!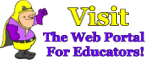 At Home in America-A free homeschooling online magazine for your whole family.
The Magic School Bus-is a series of books that can be used for science lesssons.Look for them in your local library,used book classifieds or even your local walmart store.
Make your own website for your homeschooling family or teachers make a website for your class.It can be used for a teaching tool for kids.Tripod offers a small,free one like the one I have.Later on if I want,I can expand and pay for a package deal.You dont have to but its there if you need to.Right now this one doesnt cost me anything and its just the right size at the moment.It is a great experience for kids.And you will have fun doing it.Need help?Webmonkey is offered here and e-mail me if you need to.